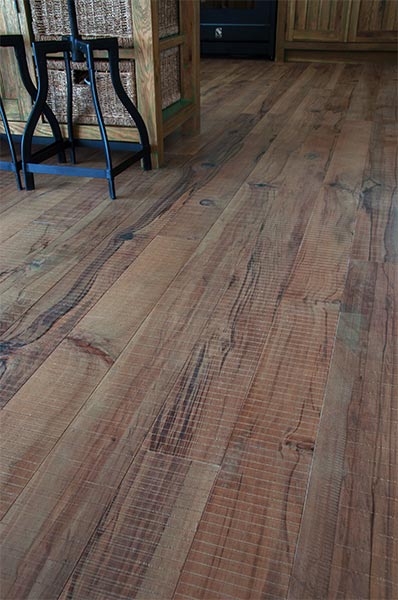 Rimu
Kahurangi Windblown Rimu Flooring
The New Zealand Natural Timber Co. have a rare opportunity to access a small percentage of Kahurangi windblown Rimu which was felled by Cyclone ITA in 2014, leaving large areas of the Kahurangi National Park devastated. Government legislation allowed a portion to be sustainably heli-harvested for the New Zealand market. The New Zealand Natural Timber Co. offers a special cut of log grade—the Kahurangi Rimu—which maximises best utilisation of the log, ensuring minimal waste. Kahurangi Rimu has an unmatched and distinctively wild appearance due to the extreme nature of the tree's life on the rugged West Coast of the South Island. Kahurangi Rimu floors provide a unique aesthetic, coupled with our range of natural timbercare oils and a variety of surface finishing techniques, to create a stunning, individual flooring solution.
NT-RI.01
Technical
Specifications
Kiln Dried to 12%m.c

Precise profiling ensuring efficient installation

End matching available

Readily accepts natural timbercare oils

New Zealand Natural Timber Co. finish and care kits available for any size floor

Standard length specification apply typical to New Zealand native timber flooring

Completely chemical free
PRODUCT CODE:
GRADES:
Pale Feature
Coloured Feature
Te Kahurangi (windblown)
SIZING:
Solid timber:
83 x 20mm
128 x 20mm
180 x 20mm
*other non standard sizing available on request
Profile Specification
Rimu Timber Flooring & Wall Linings
LivingWood
LivingWood signifies compliance with the highest standard of sustainable product sourcing and processing. Where possible, our timbers are naturally treated to achieve outstanding products which use far less chemicals than previously possible.
This guarantees a healthier product, a healthier building and therefore a healthier environment for you and your family.
All products available at the New Zealand Natural Timber Co. have the LivingWood seal of approval.